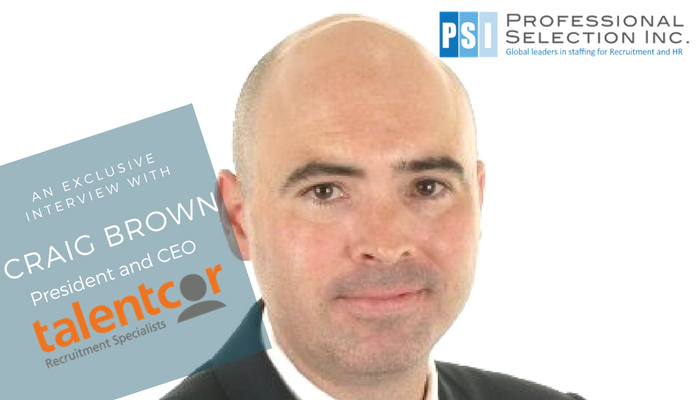 Suky: Craig, thanks for taking the time to meet with me, and it's a pleasure to be able to chat with you. As you know, we've been conducting interviews with industry leaders in recruitment as part of our Talent Titans series. Often, these stories behind the scenes make for a real bonus for our readers. Craig, for the benefit of our readers that may not be so familiar with Talentcor, perhaps you'd share with us how it came about?
Craig: Thank you Suky, it is great to speak with you today.  When I joined DGSI (Design Group Staffing Inc.)  we knew we wanted to change the way our brand was seen within the industry, so we quickly went about finding a new way to join our group of companies.  We hired an outside consultant to help us with choosing a name, and while that was a fun exercise, we ultimately chose a name we had come up with internally.  We literally wrote down hundreds of words and combinations of words, and that is how Talentcor was born.  Our marketing team played with the name, fonts, and colours and then added TC (the person that forms the "o" in the Talentcor logo).  It really was a great collaboration.
Suky: As I understand, Talentcor was previously known as Peoplebank in the East and Placement Group out West. In today's market where change is a predominant factor, bringing both groups together and blending them had to be a huge undertaking. Talk to us about the challenges you faced unifying the team, re-branding, and the obvious cultural and geographical variance you were faced with while trying to maintain the business?
Craig:  Actually there was additional complexity within The Peoplebank Group, as we had acquired Allen Professional and AIMCO as part of The Peoplebank brand.  So in effect the challenge was to rebrand four distinct groups, with all of their history and intrinsic personalities.  I think it was easier to rally the team around a new name and brand than it would have been to impose one of the existing brands on the remainder of the team.  Once we were working with a new name, the excitement was palpable, and it changed the dynamic from fear of change to looking forward to something completely new.  Having experienced mergers and acquisitions in my past, it was important to allow our teams to embrace and keep some of the pieces that they felt formed their distinct identity.  Whether it be words that they used, or how they conveyed information to their clients, they each had their own way of saying things.  We allowed them to keep these identities until Talentcor was ready to offer them a new way to do business.  It was a journey we took together, and in my experience the passage of time is essential to this process.  We celebrated Talentcor's 4th birthday in May and I feel that we are all on the same page now about what it means to work for this company.
Suky: It's great to hear how you were able to keep some of the individual flavour even through the rebranding process, especially with how varied the areas of speciality are. Ranging through Administrative, Light Industrial, Sales & Marketing, Finance & Accounting, Customer Service, Human Resources, Legal, Skilled Trades, and Procurement, Talentcor seems to do a little bit of everything. Are you finding the same challenges within these areas as some of the technology recruiters are seeing, or are there other underlying issues in this space?
Craig: Suky, as you know the only constant in this industry is change.  We have seen many changes over the years and it does not appear to be slowing down.  Whether it be technology, which I would say today is playing a far more significant role in driving change; or legislation, which in Ontario especially has the power to disrupt the industry as we know it.  We focus on providing the service that our clients need so as not to be distracted.  Our client companies are looking for great talent to add to their teams.  Our candidates are looking for great career opportunities.  If we can help make the match, then we feel we are doing a service to both groups.  Has it become more competitive?  Sure.  Do we have many more complexities to navigate?  Yes.  But I strongly believe that if we focus on our core services, while adding new and exciting value-added offerings, we can stay ahead of the game.
Suky:  To expand a little on new and exciting offerings, I noticed some recent posts from Talentcor on preparedness for the Gig Economy. What's your personal view on the way the world of work has changed, and what effect does it have specifically to your business?
Craig: There is no doubt that our industry is ready for disruption.  We know it is coming, and I will just say that we are working on some exciting initiatives to ensure we are poised to continue to service our clients and candidates in a meaningful way.  There are many exciting technological developments in the works, and we are working on a strategy to stay relevant and take advantage of this interesting time in the business.
Suky: Keeping on the topic of disruption and changes at the core of the recruitment world, one thing that many recruitment specialists are faced with today is the need to stand out and be seen as special by both candidates and clients alike. What kinds of things are you and your teams doing to create an exceptional experience for your candidates and clients?
Craig: I know you are active on social media Suky, so I hope that you see some of the exciting ways in which our recruiters, account managers, branch managers and our management team are actively branding themselves and our company to the world.  We want our candidates and clients to know our human side as well as interact with us on a business level.  We have some exceptional colleagues that bring so much more to the table than their day jobs.  We want our clients and candidates to see that.  We want them to feel that we value our clients and candidates as more than a one-time transaction.  Everyone works and everyone has a story to share.  In today's world, the line between a candidate and a client is more blurred than ever, and so building a solid personal and business network is key.
Suky: There's a definite understanding in the recruitment industry that each and every client has a unique situation. I agree with that as we are dealing with people after all. What are some of the best practices if you will, that your company strives to meet in order to stand out in this extremely competitive market?
Craig: We work hard to understand the uniqueness of our clients, because as you mention, no two clients operate in the same way, or even want to partner with us in the exact same manner.  The personal interaction with clients is key.  And while many clients are no longer open or available to meet with us, we see over and over again that meeting face to face brings our partnership to a new level.  I would say the same for our candidates.  It is not easy to build and maintain a relationship over email, phone or text.  I would say we stand out by being very closely connected to our clients and candidates.  We are also lucky to be working for the largest privately owned Canadian staffing company, something that resonates with many of our clients and candidates.
Suky: Excellent points Craig, and thanks again for taking the time to speak with me. The changing nature of the industry is certainly not lost on you and I look forward to seeing how you and the rest of the recruitment world continue to adapt.
https://professionalselection.com/wp-content/uploads/2017/09/Exclusive-Interview-with-Craig-Brown.png
400
700
Sanjay Sodhi
https://professionalselection.com/wp-content/uploads/2019/06/logo-blue-300x138.png
Sanjay Sodhi
2017-09-19 13:42:38
2019-12-03 13:41:17
An Interview With Craig Brown, CEO and President of Talentcor