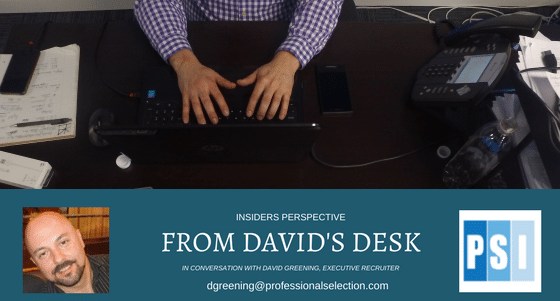 I've worked exclusive in Rec2Rec (recruiting for recruitment agencies) for over 10 years. I get questions about our industry every day, from the client perspective, the candidate perspective or just about staffing in general. At Professional Selection, we have a unique perspective on the staffing industry and we're always thinking about how to improve it. More efficient processes and a better understanding of soft skills means better results for our candidates and our clients.
So, I'd love to share some insight on a couple of topics I'm often asked about by recruiters, other agencies and their candidates. I batted some ideas around with my colleague David Greening. I'm sure you'll find his perspective useful if you're in the world of recruitment.
Suky: There's an understanding from professionals in the market that Executive Recruiters search out "people for positions", NOT "positions for people". Can you tell me how you manage this? How do you strike a balance?
David: In the way that I run my desk, I would say that I do a combination of the two. I don't think you can be a true champion of your clients OR candidates if you only do one or the other.
If we only looked for "positions for people", our clients would say: "Why aren't you targeting the type of people I asked you for?" Ultimately, they pay our invoices so guess what? If we don't please them, there won't be any roles to place ANYONE in. When we do please our clients and get repeat business, then we can absolutely improve our candidates' lives and careers, which is where the flipside of this discussion comes in.
Lots of times I will be in contact with someone who is moving from another city, or someone I have been in touch with in the past, who is looking for a new role. This is a time when I will seek out roles and clients who I think will be of interest to my candidate. Let me give you two examples:
I just placed a candidate a few months ago that I met almost four years ago. I finally had the right role at the right time and she couldn't be happier. Another candidate was referred to me when he was moving from Ottawa to Toronto. I presented him to four clients and he received four offers. The position he chose was the best fit for him and he's still there five years later.
Of course, we hear plenty of extreme opinions in this area on a daily basis. I see a lot of commentary in our LinkedIn conversations when people, either locally or from abroad, apply for roles where they have no relatable experience whatsoever. I see comments like, "As a professional, you should take the time to advise and help these people!"
We are a search firm. If we took the time to offer help to all of these people, there wouldn't be any time left to do our jobs. There are plenty of government programs designed to offer help in such matters. A portion of our tax dollars goes towards funding these services. We will, of course, help out when we can or feel compelled to, but we can't help every single individual who contacts us.
Suky: There's a feeling in the industry that the wrong time to meet an executive recruiter is when you are unemployed. How do you feel about that and what advice do you have to people in this position?
David: I don't feel there is any right or wrong answer to this. I would be lying if I said that clients don't usually see actively employed candidates as more competitive. The benefits of representing someone who is currently employed include that clients often feel they are "getting one up on their competitors", or that the candidate won't be "rusty" or "out of the game for too long".
Alternatively, we've built strong enough relationships with our clients to convince them to look at much more than a candidate's resume. I've had a lot of success placing people who are returning from maternity leave, some extended travel, hiatus from industry, or any number of other reasons for not being actively employed when they enter the process. Some strengths of these candidates are that they are often re-energized, re-focused and, especially in our industry, not tied to a non-compete. As a recruitment professional, a good way to NOT get disappointed at the 11th hour is to really get your candidate to be open and upfront with you about why they're out of the game.
The best-case scenario is to get exclusive rights for them to entrust you with finding them the next step in their career. If your candidate isn't willing to do this, make sure you always ask, "What other opportunities are you looking at and what stage are you at?" This will help guide your process and your client along a timeline that will enable you to be competitive in getting your candidate an offer.
About David Greening, B.Comm (Accounting & Finance)
Professional Selection has been David's home for the past 5 years. He has helped more than 200 staffing professionals transition into a better position, a better cultural fit, and to different cities and provinces across Canada. His goal is to ensure the longevity of each and every placement he makes.
With a previous career of 18 years in credit and collections, he's taken his active listening, negotiating, and client branding skills and is now using them in a totally different way. He helps both clients and candidates look at things from a different perspective. His goal is to help them focus on what's really important.
As the Lead Account Manager at PSI, David manages the majority of Professional Selection's Canadian client base. He represents every type of agency, from small local boutiques to national brands. In doing so, he ensures that both clients and candidates feel that their specific needs are always valued and considered.
https://professionalselection.com/wp-content/uploads/2017/05/insiders-perspective-header.png
301
560
Sanjay Sodhi
https://professionalselection.com/wp-content/uploads/2019/06/logo-blue-300x138.png
Sanjay Sodhi
2017-05-24 14:03:44
2019-12-03 13:41:37
Insider's Review: From the Desk of Dave Greening