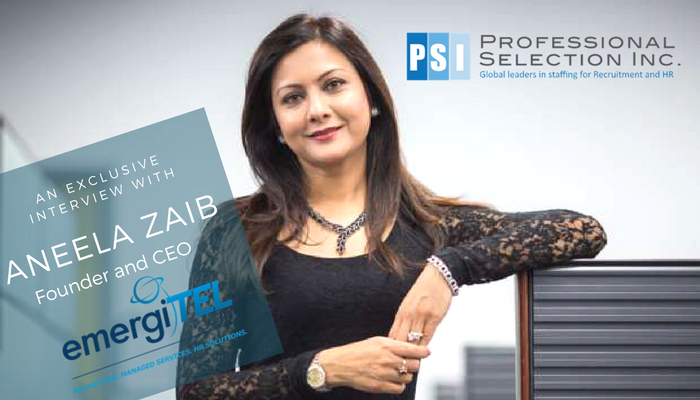 As part of our Canada 150 celebrations we are reaching out to the recruitment community to hear from owners of successful recruitment businesses. We're going to talk about how they started in the business, what's changed over the years and what they believe the future holds for the staffing and recruitment industry.
We spoke with Aneela Zaib, CEO of emergiTEL and we hope that you enjoy hearing her story as much as we did.
SUKY: Good morning Aneela. Firstly, thanks for talking with us today. I know your perspective on the past, present, and future of staffing in Canada will be especially valuable. So let's begin at the beginning: what made you decide to leave your home in Pakistan and come to Canada?
ANEELA: Back home, at that time, science and engineering were not common subjects among women. I still remember, out of a class of 200 university students, there were only 14 girls. So when I wanted to do my Masters in Engineering, there was little scope, and I knew I wanted more. It was always my passion to learn and empower others with my knowledge. So it was for purely educational reasons that I decided to leave Pakistan and move to Canada.
SUKY: How was the move?
ANEELA: In all honesty, I can't say that it was a bed of roses. I was very excited that my husband and I were both accepted to study at the University of Toronto (Electrical & Computer Engineering), which had been a mutual goal of ours since childhood. But actually getting to Canada wasn't easy. I had to sell my jewelry and my car to afford the flights for both of us. Also, I was pregnant at the time of the move. As with most immigrants, we underwent a lot of hassle and trouble in our efforts to build a life in Canada.
SUKY: How did you continue your studies despite being pregnant?
ANEELA: Well, I had to take time off and defer my study plans for a while, until I gave birth to my son. Eventually, when my son was 11 months old, I went back to my studies. I could have started earlier but, simply speaking, we could not afford daycare. I started studying at night and then coming home in the morning to do my duties as a mother and a wife. I am extremely thankful to my husband for his enormous support, enabling me to finish my studies on time, despite being a new mother.
SUKY: What inspired you to start emergiTEL?
ANEELA: I was working for Sprint Canada as a process engineer. And it was there that I got to know a lot of cross-functional teams. Some of the employees were not working in their areas of expertise, using what they had learned in their respective educations. This made me think about the qualification process at the time of their hiring. Hence, the concept of a recruitment agency that does in-depth screening to qualify and improve compatibility between prospective employees and employers led me to start emergiTEL. Initially, I started it from the basement of my house, single-handed, and today emergiTEL is acclaimed Canada-wide for its premium staffing solutions.
SUKY: What challenges did you face in your journey as an immigrant and entrepreneur?
There were many. It was a very tough environment to start off with. We did not have any friends, acquaintances, relatives, associations, or anything that was able to give us the comfort and solace one needs to begin a new life in a foreign land. Financially, too, it was quite challenging. I started emergiTEL as a bootstrap company, so my collateral was in the form of client invoices, from clients who were established players in the market. There was a big risk assessment exercise that I had to undergo. Thankfully, RBC was most helpful in my quest to get a line of credit necessary to start my business. Again, selling the idea of my company and its uniqueness, over the other established players in the industry, was also very challenging.
SUKY: So, you chose the recruiting business, and we both know just how competitive that business is. Why emergiTEL, and what was the premise that you built the company on?
ANEELA: The philosophy at emergiTEL is that "Talent has no boundaries".
When immigrants arrive, they bring with them a wealth of experience and knowledge. However, in Canada, employers tend to look be on the lookout for candidates with Canadian experience. This has a diverse effect on both. non-Canadian candidates are baffled by this attitude, while employers want people who are acclimatized to the Canadian workforce and culture so that they can start immediately. emergiTEL addresses this issue by following a thorough model of screening which we call 3D. In this 3D model, we give a deeper assessment of our clients' profiles. We check references and do all the necessary work for our clients, which basically give them the satisfaction and peace of mind they need before hiring someone. And this is no easy task as it does take up a lot of our valuable time.
SUKY: So, you are now the CEO of a successful recruitment agency, and from what I've read you started with the idea of helping not only your clients, but also people very much like yourself some years ago, an immigrant with no Canadian experience. I can't help but think just how proud you must be to have not only built your business, but also to have paid it forward to so many people in the process. Tell me about that and what goes on in your mind as you look back and see how your success has blossomed?
ANEELA: Looking back, I am most thankful to those folks who have helped me in in my journey. To me, in Ralph Waldo's words " Life is a journey not a destination". My goal is to make this experience for newcomers as pleasant and uncomplicated as possible by helping them find a job in their area of expertise and, in turn, create a productive work environment for my clients.
My goal for my team at emergiTEL is to provide them with the necessary support and guidance in order to ensure their ultimate success. At emergiTEL I especially favour growing my team organically, and providing a chance to those where it doesn't easily come.
SUKY: There has been lots of press around the fact that you have been honoured with awards for Entrepreneur of Year and A Woman to Watch, and I have to say that this really resonates with me. What have you done differently to other women looking to break the glass ceiling and make their mark in the business world?
ANEELA: I think the only thing standing between you and your success is your own confidence and the ability to believe in yourself and your ideas.  This is what I have tried to do; to think outside the box and find the courage to implement ideas that I believed in.
SUKY: You have been a key participant in strengthening the idea of a diversified workplace. How did you nail it?
ANEELA: The idea of a diversified workplace stems from the idea of 'Thought Diversity'. For example, if there is a problem, and there are 10 people who are all Canadian-born and raised working on this problem, in my opinion they will have a limited skill set. However, if we bring a diverse participant into the discussion, diverse because of  gender, age or nationality, and trained differently to tackle a problem, innovative ways of solving the same problem can now be brought into the equation. In time, this will create better productivity within the workplace. If all companies introduce this concept, then we will have a much stronger, innovative and quality-driven Canadian economy. I am a strong advocate of this concept and firmly believe that talent has no boundaries. The trick is, of course, how to fit the right person into the right position.
SUKY: I think it's safe to say that you are a very driven person that will always put in the effort to scale your business. What do you see in the future for emergiTEL?
ANEELA: emergiTEL is a purpose-driven business, helping our clients and candidates achieve their goals. emergiTEL will continue to expand across industries and maintain our niche in Technical and IT Recruitment. We will continue to provide innovative recruitment solutions as per the evolving needs of industry. We see emergiTEL as a go-to Human Resources partner for our clients.
SUKY: Aneela, I want to thank you for your time as we examine the Canadian mosaic, with people of all cultures and skills coming together for mutual success. I think it's absolutely brilliant that we are able to add your story to the celebration of Canada's 150th birthday.
Congratulations to you on a superb success story and we wish you the very best as you continue to grow your business
https://professionalselection.com/wp-content/uploads/2017/06/Exclusive-Interview-with-Aneela-Zaib.png
400
700
Sanjay Sodhi
https://professionalselection.com/wp-content/uploads/2019/06/logo-blue-300x138.png
Sanjay Sodhi
2017-06-20 14:30:00
2019-12-03 13:41:37
An Interview With Aneela Zaib, Founder and CEO of emergiTEL